For many, the Thanksgiving holiday is a time to give thanks for the abundance in their lives. But what happens when the people who make that abundance possible, the thousands of farmworkers who harvest our daily fruits and vegetables, are left out of the picture? In their relentless 20-year struggle, the CIW has been working to eradicate decades of farmworker exploitation and powerlessness, and pave a path for change rooted in dignity and respect.
Today, the Fair Food Program is well into its fifth season of implementation, and farmworkers at the head of the table, with the commitment of 14 multi-billion dollar food retailers, are eliminating longstanding abuses in the U.S. agricultural industry.
Unfortunately, despite the transformational changes that farmworkers are experiencing today, there still exist retailers who consider it enough to give charity, and negate their responsibility to uphold the justice for which farmworkers and students and youth are demanding. Wendy's, the final fast food holdout, and Publix, one of the country's largest private supermarkets, continue turning a blind eye to the success of the Fair Food Program and the existence of the "New Day" of human rights that is dawning in the fields of Florida and beyond.
Wendy's continues to be the only one of the country's largest fast food corporations that refuses to participate in the Fair Food Program. And time and time again, students and young people have let Wendy's know that their inaction is unacceptable, especially with the burgeoning national student boycott of Wendy's and the ongoing Boot the Braids campaigns to end campus contracts with Wendy's.
And for six years, the same urgent call to justice has been made to Publix, whose charity arm projected to donate $1.5 million to a dozen food distribution centers across the Southeast. But as Publix delves deep into its money-lined pockets to give a little extra this holiday season, where does it stand in terms of human rights for farmworkers within its supply chain? What does charity mean when it is not followed by justice?
And so on Nov. 21, hundreds of farmworkers, students, young people and community organizations across the country – from Miami to Jacksonville to Columbus – held true to their word in "Uniting for Fair Food" to demand justice from Publix and Wendy's. On marches, pickets, letter delegations, and social media, the SFA network made it clear that it will only continue to grow until Publix and Wendy's join the 14 corporations that are now part of the solution to farmworker abuse in this country's agricultural industry.
The Fair Food Nation showed up. Now, Publix and Wendy's, it's your move.
MIAMI:
The community of Miami showed up in full force, as scores of students from Barry University, St. Thomas University, Broward College and Florida Atlantic University, the Dream Defenders, WeCount!, and Miami community members united with dozens of CIW members. Farmworkers and allies gathered with ponchos to brave the rain in one hand and Fair Food art in the other, ready for action! The two-mile, 150-person strong march took off with a jolt of energy. First up was the Wendy's restaurant along famous Calle Ocho. Though the Wendy's manager refused to accept the letter from the delegation, the march continued on as animated as ever. As the march reached Publix, the delegation was approached by both a Publix representative and a manager who stood in silence as each member of the delegation took turns explaining why they were uniting with farmworkers to call on Publix to join the Fair Food Program. During the reportback at José Martí Park, farmworkers, community members and students spoke their truth, reiterating that there is no excuse for Wendy's and Publix's rejection of the Fair Food Program. CIW's Silvia Perez ended the action with a resolute reminder to both Publix and Wendy's: "We aren't going to get tired. We are going to keep going with our struggle. It's when our voices are together and loud that we are able to create strength and achieve this."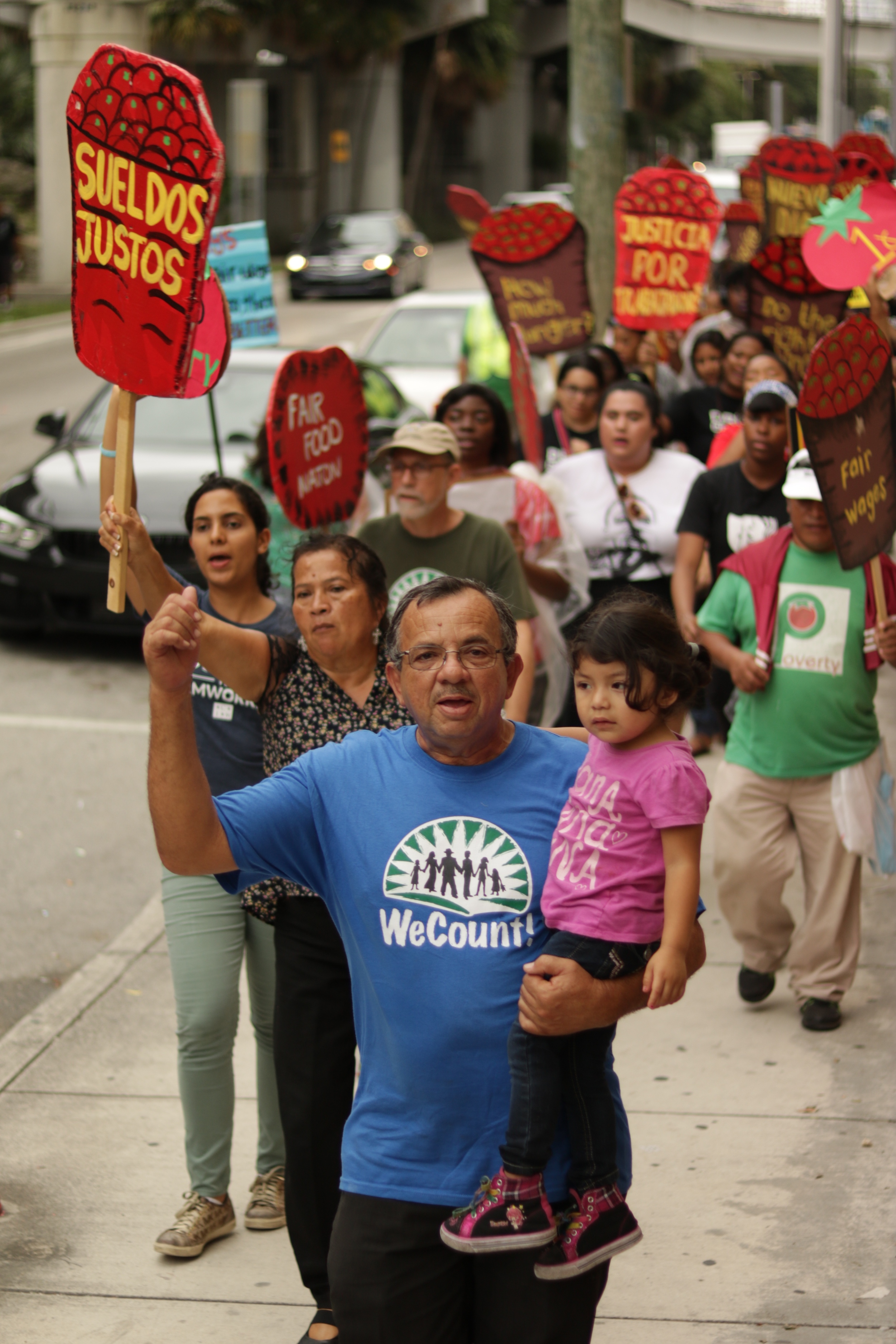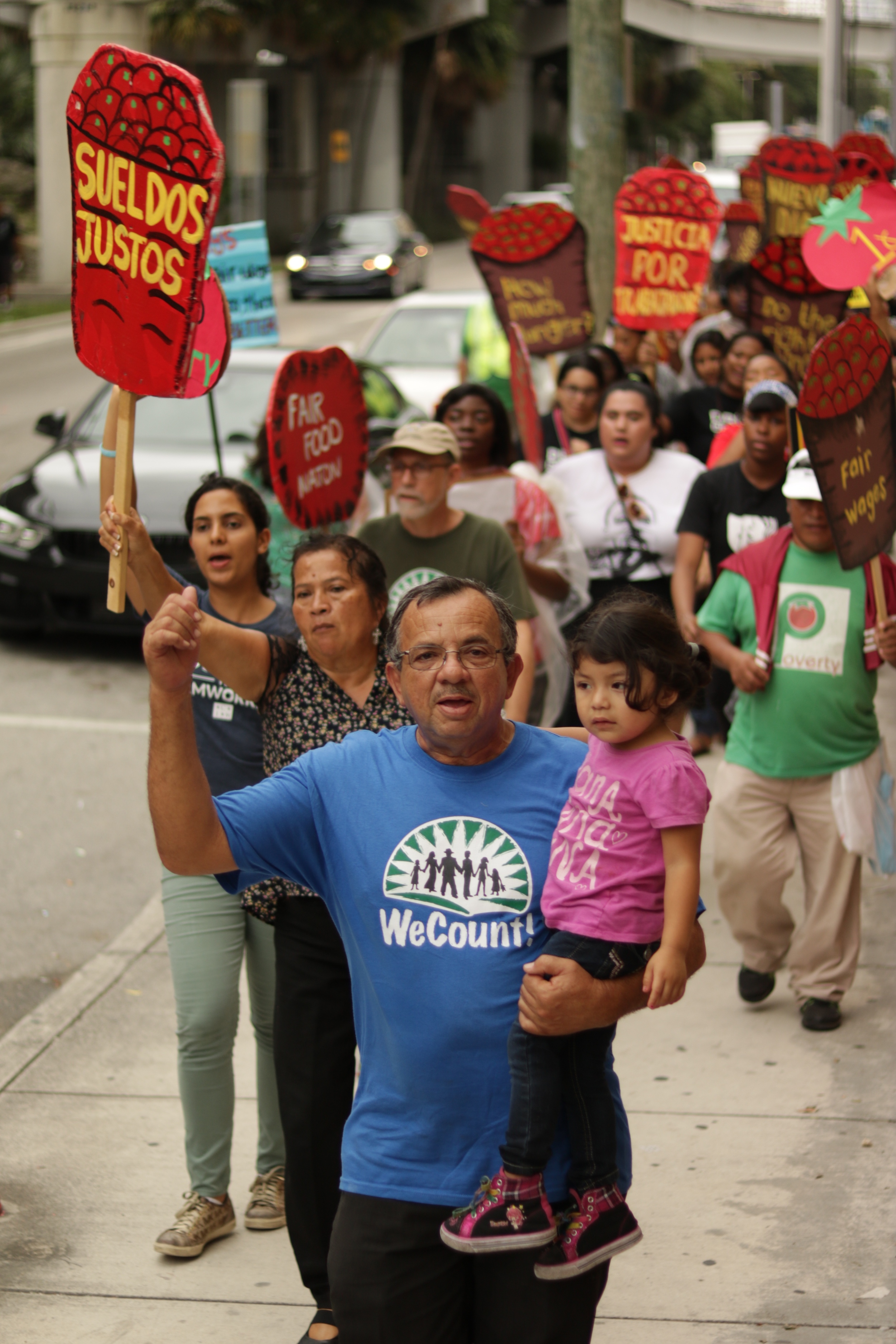 JACKSONVILLE:
The powerful relationship between River City Science Academy, the community of Jacksonville and farmworkers in Immokalee strengthened more than ever as over 50 middle and high school students took to the streets for a three-mile march on Publix and Wendy's. In a lively and energetic march, despite the afternoon drizzle, chants and songs echoed throughout the streets of Jacksonville as students chanted, "No rain, nor wind, will stop us, we will win!" After the march, students gathered near the Wendy's restaurant for the final reportback from the delegations, where many spoke of their renewed dedication to the Campaign for Fair Food. In the words of one of the River City high school seniors to both Wendy's and Publix: "We are strong, and we will not be intimidated."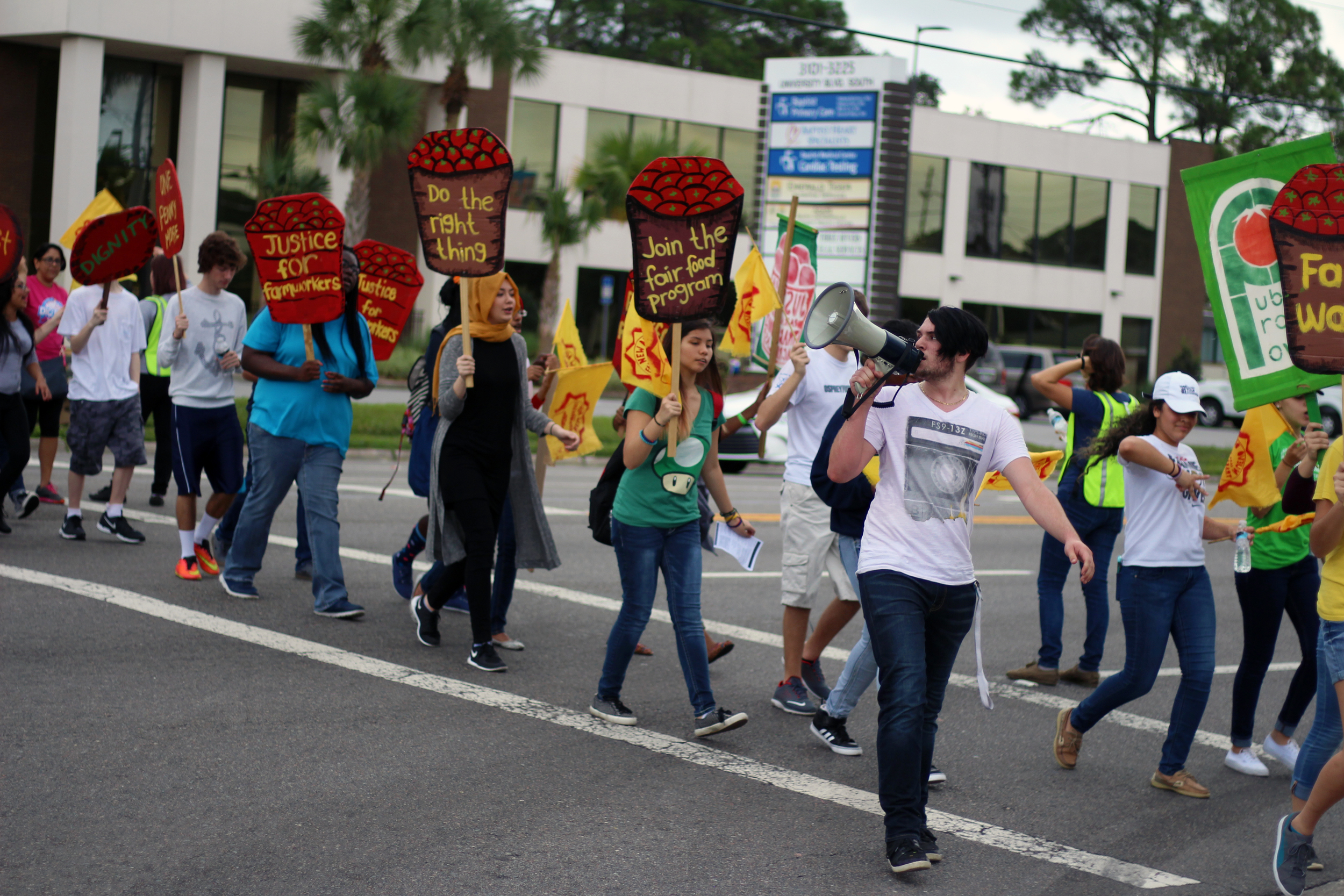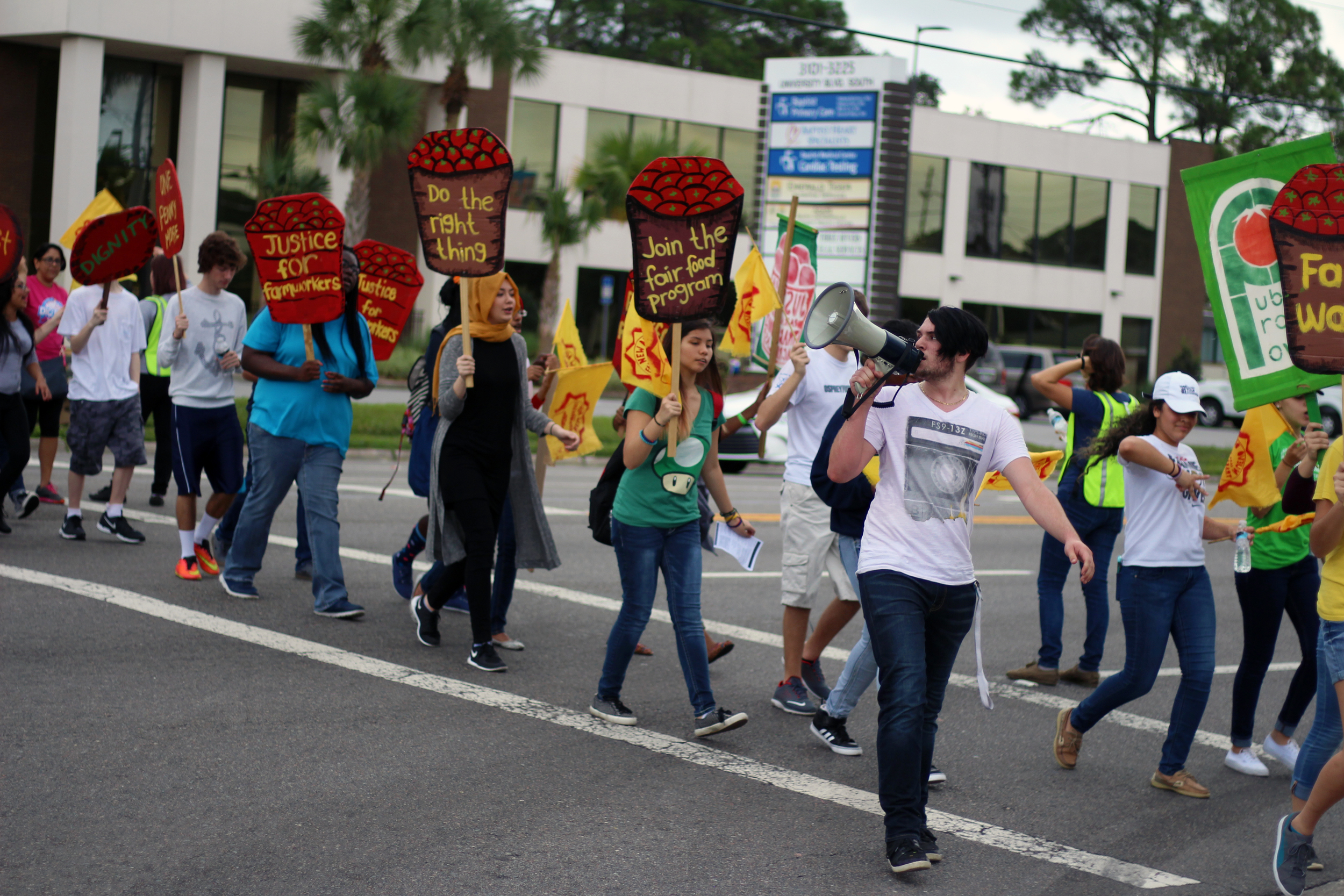 COLUMBUS:
In the Buckeye State, Fair Food allies in Columbus– people of faith, students and community members – gathered outside of a recently-opened Wendy's near the Ohio State University campus. Right before the weekend's football game, the sidewalk was crowded with fans and potential Wendy's customers, who instead got to hear about how Wendy's and Ohio State have refused to take a stand against farmworker exploitation, so long as the university continues to do business with Wendy's. The ever-committed group proclaimed "OH - IO - exploitation has got to go!" as they picketed outside Wendy's and encouraged students to join the growing boycott. The manager refused to accept the delegation's letter or even engage in a dialogue.
PROVIDENCE:
As the consumer movement and national student boycott of Wendy's grows by the day, members of the Central Falls worker-led organization Fuerza Laboral and the Brown Student Labor Alliance came together to amplify the call for Fair Food in Providence, RI. Despite the cold, over 20 dedicated workers and students marched and chanted in support of Wendy's joining the proven solution to farmworker exploitation. Fuerza and SLA, who are calling for justice for workers throughout Rhode Island and throughout the food system, and students at Brown, who are demanding racial justice on their campuses and in their communities, joined in this day of action to send Wendy's a clear message: You must take responsibility and join an enforceable, farmworker-designed Program that is systematically transforming working conditions in the fields for the first time in the history of the industry.
GAINESVILLE:
At the University of Florida, yet another Boot the Braids school, CHISPAS members took to social media to show support and spread the word of their ever-increasing efforts to Unite for Fair Food. SFAers set up tables at the Plaza of the Americas, a heavily-trafficked part of campus, as students stopped by to take pictures with signs, sporting their willingness to boycott Wendy's until they join the Fair Food Program. Students also used this opportunity to build relationships among on-campus organizations that are continuing to join the fight for Fair Food. After yet another successful Wendy's action, CHISPAS is gearing up for more actions on campus as the spring semester approaches.
ORLANDO:
In Orlando, nearly 100 Fair Food allies from the University Unitarian Universalist Society, the First Unitarian Church of Orlando, the Youth and Young Adult network of the National Farmworker Ministry, Park Lake Presbyterian Church, Timber Creek High School – and even from the Southeastern University Student/Farmworker Alliance chapter, based in Publix's headquarter town of Lakeland, Florida — joined together for a lively picket and letter delivery to the manager of Publix on Lake Eola. As nearly all present had participated in prior CIW protests and were well aware of Publix's six-year denial of human rights for farmworkers, the protest was infused with an air of steadfast commitment. Given their experience with Publix's rebuff, the delegation who spoke with the manager was surprised by his personal expressions of applause for the CIW's work and his final remark: "It really seems like support for this is growing."
 

TAMPA:
Members of Tampa Bay Fair Food, United Methodist Women, Tampa Food Not Bombs, students from the University of South Florida and Hillsborough Community College gathered for an energetic picket at Publix on the highly-trafficked Fowler Avenue. The CIW's Leo Perez and Tampa allies led letter delegations to speak with representatives from Publix and Wendy's, connecting their experiences to their commitment to Fair Food. Despite continuously empty responses from both Publix and Wendy's, farmworkers and their allies remain committed to the struggle for dignity, respect, and long-awaited justice. On this note, the Tampa contingent of the Fair Food Nation united their voices for a final round of chants: "We'll be back! We'll be back!"