The spring semester may be winding down with finals just around the corner, but the vibrant student/farmworker movement to end sexual violence in the fields is still going hard! Last Thursday, students from nearly 30 schools around the country ushered in the month of April, observed nationally as Sexual Assault Awareness Month, by bridging the struggle to wipe out sexual harassment against women from campus to the fields — and holding Wendy's (and university administrations that continue doing business as usual with the fast-food company) accountable for failing to protect farmworker women!
Today, we bring you exciting highlights from the "It's On Wendy's" National Day of Action, which made waves in 26 cities from Oakland, California to Miami, FL to Providence, Rhode Island, after Wendy's blunder of epic proportions — the company's spokesperson Heidi Schauer went on record accusing farmworker women of "trying to exploit" the #MeToo and Time's Up movements.
Students fought back — on the Internet and in the streets — declaring that CIW farmworker women are central leaders in the national movement against sexual harassment and assault in the workplace and demanding that Wendy's join the industry standard for effectively combatting gender-based violence in the fields: the Fair Food Program!
Gainesville, FL — University of Florida
First up, students at the University of Florida ramped up their Boot the Braids campaign with a colorful march from the Reitz Union, home to one of two on-campus Wendy's, to the office of President W. Kent Fuchs requesting an in-person meeting. Four days before the march, UF senior and SFAer Lucero Ruballos published a bold open letter to the President on behalf of dozens of concerned UF students, faculty and alumni in the widely-read daily student newspaper The Independent Florida Alligator:
"...UF does not tolerate sexual harassment and abuse of any kind on campus. No questions asked. So why put UF's reputation at risk by meddling in business with a company that unconscionably refuses to take meaningful action to eradicate sexual violence and other human rights abuse in its supply chain?
It is no secret that thousands of farmworker women are forced into silence by the grabbing clutches of fear, violence and corruption that define the agricultural industry in Mexico.
In the era of #MeToo, we must lift up real, enforceable solutions to stamp out and prevent sexual harassment and assault in the workplace — and hold corporate giants like Wendy's responsible for failing to rid their supply chains of human rights violations.
As stakeholders of all matters tied to UF, we will not accept the influence and presence of a fast-food brand on campus that looks the other way as farmworker women sacrifice their dignity to feed their families..."
As the march's bright yellow flags and red, tomato-shaped protest signs made their way across UF's Spanish moss-covered campus, members of CHISPAS UF, Lucha Latina and the Hispanic Student Association, chanted and handed out hundreds of flyers spreading the message of the Boot the Braids campaign to passersby. Upon arrival, a delegation of student leaders, including HSA President-elect Brenda Villanueva, and CIW's own Nely Rodriguez, entered a sit-down meeting with Assistant Vice President for Student Affairs Mary Kay Carodine, who showed face on the President's behalf. She promised to set up a meeting between the students and Mr. Fuchs and pass along their firm demand to immediately remove Wendy's from campus until the company joins the Fair Food Program!
Providence, RI — Brown University
Brown University students — just a few weeks after helping to mobilize over 90 students and youth from across the Northeast to the Time's Up Wendy's March in New York City — held a lunchtime speak out with over 40 people, drawing out the gross connections between hedge fund Trian Partners, directed by Wendy's Board Chair Nelson Peltz and one of Brown's largest corporate donors, Mondelez International Inc.
They declared: "The same corporate money used to oppress farmworkers runs through the very veins of our university. We, the students, have therefore benefited [from Peltz's backward business deals] which intimately ties us even further to the call for solidarity with farmworker women and men who are being exploited by Peltz and his investments." (Be sure to also check out this incredible podcast on the CIW's Freedom Fast produced by Brown student Lauren Black!)
New York City — New York University
On the heels of an unforgettable march in New York City with over 2,000 farmworkers and allies, NYU Peer Health Exchange marched from NYU Kimmel Stairs through Washington Square Park and down Broadway to the local Wendy's. The students attempted to deliver a "red-dot" to the manager representing the unsafe working conditions and excessive levels of sexual abuse that farmworker women suffer in Mexico's fields, Wendy's produce industry of choice. Students chanted and distributed flyers, spreading the message that New Yorkers will continue to #BoycottWendys until Wendy's Board Chair Nelson Peltz, who lives and works in the city, does something to eliminate violence in his company's supply chain!
Nashville, TN — Vanderbilt University, Middle Tennessee State University, Trevecca Nazarene University and Nashville State Community College
Students from four major Nashville schools and members of Workers' Dignity teamed up for an energetic picket and manager letter delivery at a local Wendy's to express their beef with Vanderbilt University Chancellor Nicholas Zeppos, who has refused to cut ties with a company that profits from labor rights violations, including sexual violence and forced labor, in Mexico's tomato industry.
Columbus, OH — Ohio State University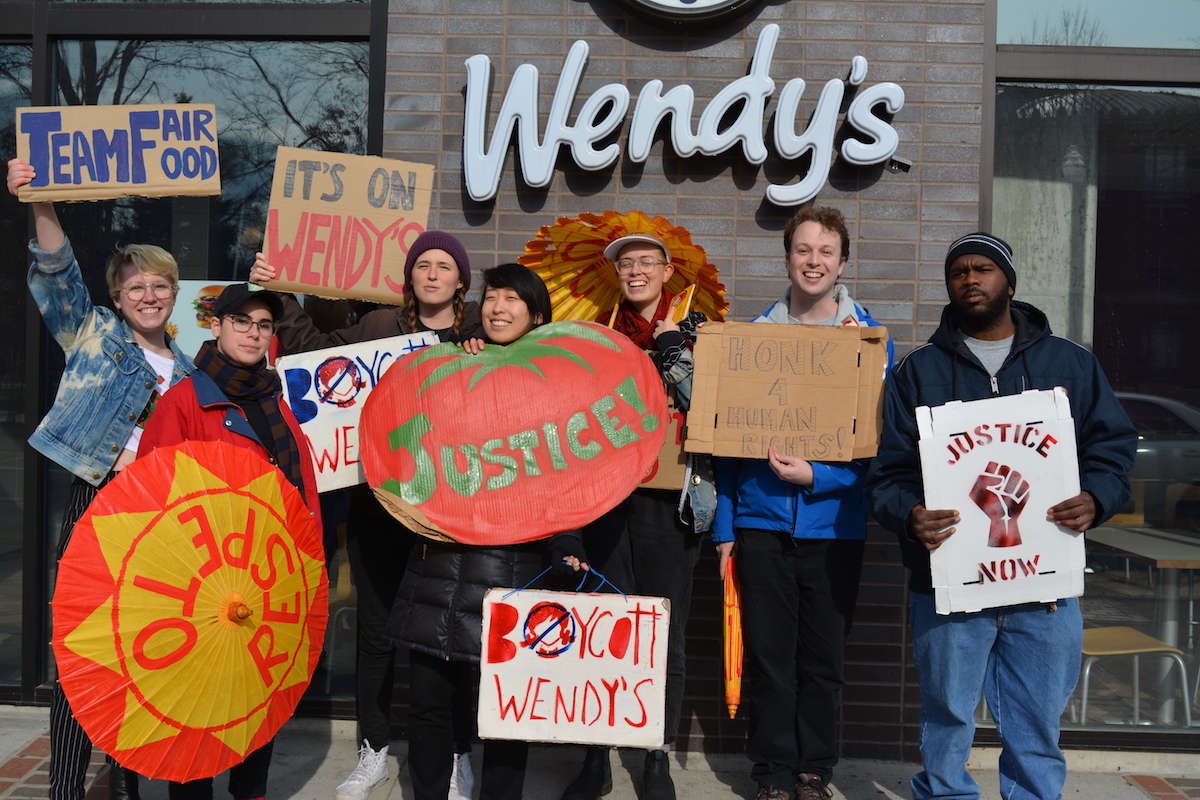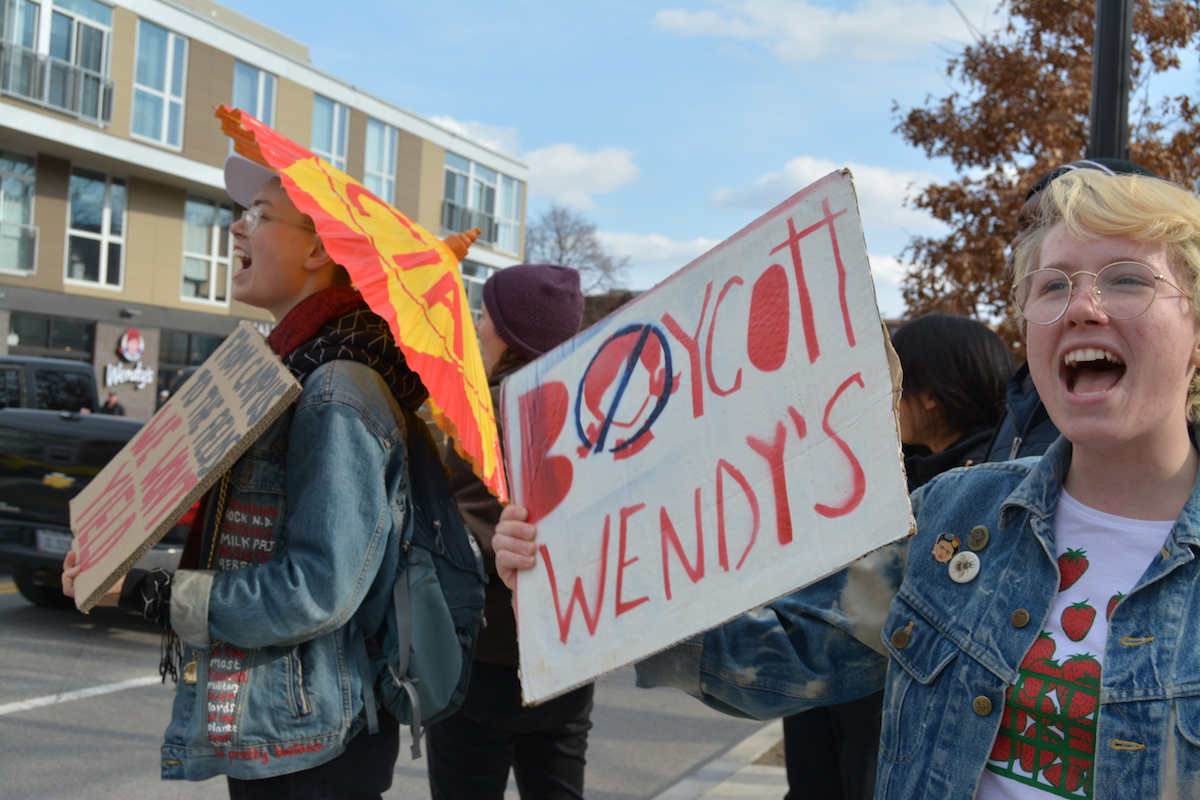 The unstoppable OSU SFA crew organized a (successful!) letter delivery to the local Wendy's across campus. Colorful as ever, the group chanted, sang Fair Food tunes and handed out flyers exposing Wendy's and OSU's complicity in ongoing sexual violence against women farmworkers to hundreds of Columbus community members who walked by the busy High Street thoroughfare — several whom committed to #BoycottWendys on the spot!
Washington, DC — Georgetown University, American University and George Washington University
Members of DC Fair Food, DC International Workers of the World and students from three major DC universities — Georgetown University, American University and George Washington University — came together to declare that #ItsOnWendys to stop spreading lies about the CIW and end workplace harassment and assault in its supply chain! In an interview with On the Ground, SFA Steering Committee member Sara Policastro rebukes Wendy's wild accusation that CIW is "trying to exploit" the momentum of the #MeToo and #TimesUp movements: "[This is] an outrageous thing to say about a group of women of color who for decades have been pioneering this work and have been at the forefront of ending abuses in the fields..."
After the picket, the group participated in a solidarity march with #HUResist student activists who occupied Howard University's administration building for over a week after an embezzlement scandal broke involving theft of $1 million in financial aid funding.
St. Petersburg, FL — Eckerd College
Eckerd College students marched from campus to their local Wendy's affirming their commitment to #BoycottWendys until the fast-food company respects the dignity of farmworker women!
Athens, OH – Ohio University
Ohio University student Lori Boegershausen joined her peers from Ohio University with a video posted from Athens, OH!
Sarasota, FL — New College of Florida
New College students and Sarasota Fair Food members pulled off an exciting twofer action, marching from Publix to Wendy's through one of the busiest streets in town! Santiago Perez of the CIW supported the students' action as they took turns voicing their disgust over Wendy's ridiculous attack on the farmworker community in Immokalee and demonstrated their resolve to keep up the fight until the fast food holdout finally gets with the Program.
Chapel Hill, NC — University of North Carolina at Chapel Hill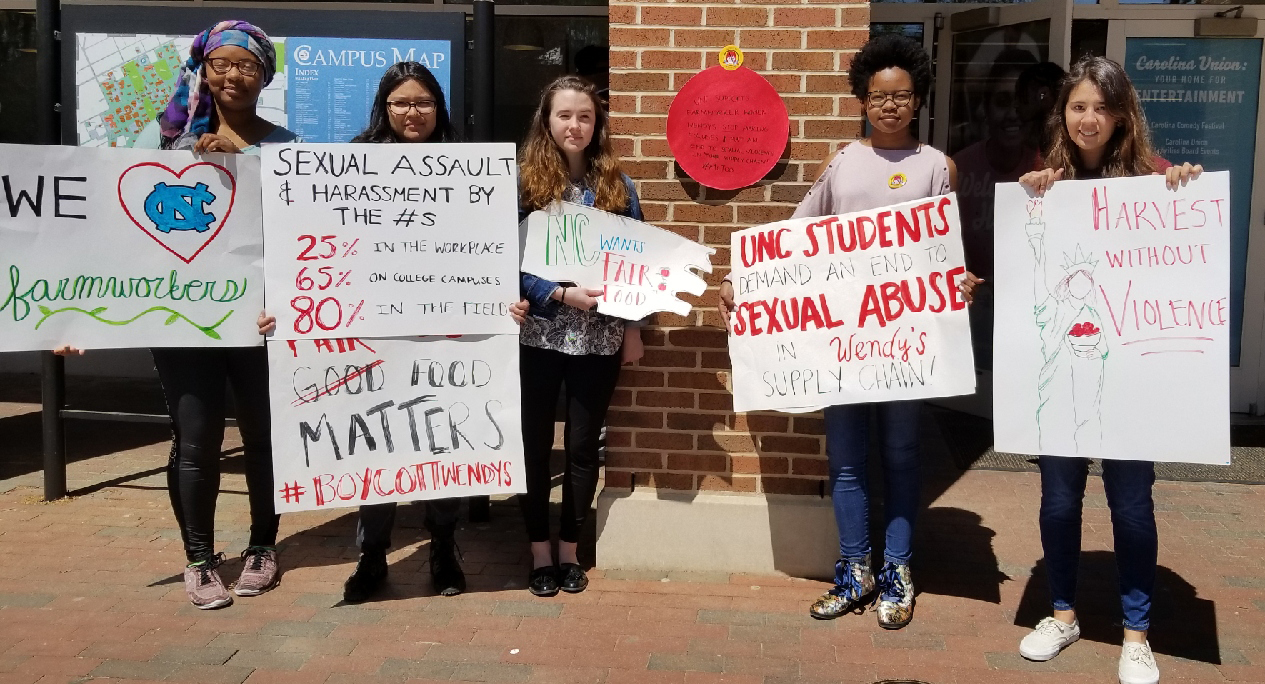 UNC Chapel Hill students, along with Durham-based Student Action with Farmworkers, organized a march from the main campus quad to the Wendy's at the Graham Student Union, demanding that President Carol Folt stop allowing UNC to do business with a crooked corporation that profits from the suffering of farmworker women and Boot the Braids once and for all.
Charlotte, NC — Latin American Coalition
With a beautiful day-dawning banner with the words "We're in the fight for a better future" inscribed above and below, a coalition of groups including Action NC, Latin American Coalition, and Communications Workers of America paused their march in honor of farmworker organizers for 20 minutes to picket, demonstrate, and attempt to enter and deliver a letter to their local Wendy's. The group also debuted a larger-than-life manager letter to ensure everyone who drove by learned about the Wendy's Boycott!
Oakland, CA
Longtime CIW allies in Oakland made an appearance outside their local Wendy's with colorful protest signs and Fair Food jams to spread the message of the national boycott with passersby and the manager on duty. If you haven't done so already, don't miss these rockin' boycott-inspired remixes by SFA troubadour Liz Fitzgerald, who livened fasters' spirits on the final day of the Freedom Fast last month.
Rio Grande Valley, TX — Fuerza del Valle
Notre Dame, IN — Notre Dame University
Notre Dame SFA participated in the national Day of Action by symbolically marking their local Wendy's as a "red-dot" zone, associating the brand with the violent crimes against women that go unchecked every day in the Mexican agricultural industry where Wendy's buys its tomatoes. The growing chapter pledges to take action in the boycott until Wendy's becomes a "green-dot" establishment, like their own university, and takes meaningful steps to ensure that farmworkers in its supply chain are working free from sexual violence.
Pittsburgh, PA — Duquesne University
Duq SFA came through with an ambitious caravan action: the crew hit up all seven Wendy's locations in Pittsburgh delivered pledges to boycott until the fast-food chain joins the CIW's Fair Food Program.
Miami, FL — Barry University
Barry University students, joined by CIW's Julia de la Cruz, successfully delivered a letter to their local manager in Miami.
Cleveland, OH - John Carroll University
At John Carroll University students gathered 129 signatures on a Wendy's manager letter in a just a few short days. Wanting to communicate that Wendy's stands in the way of farmworker justice, the students took their letter to a local Wendy's manager who would not accept it. But this isn't holding them back! Next, the small but mighty group will be sending their collected signatures directly to Wendy's headquarters in Dublin, OH.
Boston, MA — Harvard University and Tufts University
Students from the Harvard School of Public Health and Tufts Friedman School of Nutrition passed out over 100 flyers at the Wendy's downtown, educating the local community about CIW's national Wendy's Boycott. The group attempted to deliver a letter to the manager, making clear that the Campaign for Fair Food will keep picking up steam in Boston until Wendy's comes to the table with farmworkers.
Southwest Florida — Florida Gulf Coast University and Immokalee High School
And to bring it all home, check out the beautiful photos from last Saturday's electric "It's On Wendy's" action in sunny Southwest Florida! Dozens of Florida farmworkers, their families and FGCU students hit the streets to demand justice from Wendy's and Publix for the women and men who harvest the food that ends up on our tables!
The photos speak for themselves, but we'll give the last word to Arletys Gomez, a student leader from the FGCU SFA chapter:
"As college students we have firsthand experience in the fight against sexual violence, and we know how important it is to allow women a voice and access to rights in the face of injustice. If we don't tolerate sexual assault on our campus, why should we tolerate it in the fields?
We won't allow Wendy's to continue denying our voices, to continue turning a blind eye to sexual abuse faced by farmworker women. It has gone on for too long, and today we are taking a stand!"