Students escalate campaigns to boot Wendy's off college campuses from Michigan to Philadelphia; put finishing touches on upcoming "Pulling Back the Curtain on Wendy's" National Week of Action, Oct. 22-28…

Over 150 farmworkers and allies flood sidewalk on U.S. 41 in Estero, FL, for dazzling Wendy's Boycott protest…
Last week, ushering in the beginning of the fall season, Immokalee hosted over 80 students and youth traveling from over 35 communities across the country, and even from as far as Mexico City, for this year's SFA Encuentro, themed "Hasta la Raíz" (Down to the Root). Participants made their way to Immokalee, the birthplace of the CIW's incredible battle against poverty wages and systemic violence in the fields for an extraordinary weekend of building strategy and community with farmworkers and with each other.
The Encuentro weekend brimmed with conversations rooted in compañerismo and commitment from beginning to end, paving the way for SFAers to create long-term strategies for transformative change in our food system and lay down commitments for the upcoming "Pulling Back the Curtain on Wendy's" National Week of Action from Oct. 22-28. While gathered in Immokalee, we reflected on the tremendous power and responsibility we as students and young consumers have in holding corporations and our institutions to account for shameful business practices.
And, we channeled our inspiration into action with a loud and energized protest outside of a local Wendy's in Estero, FL!
Today, we bring you a day-by-day recap of the weekend, interwoven with beautiful photos from some of our favorite moments. Here's what went down at the 2018 SFA Encuentro:
Day One: Thursday, Sept. 20
The powerful women leaders of the CIW Women's Group opened the weekend with a warm bienvenida to the Coalition's colorful Community Center during the opening ceremony, which set a grounding tone for the rest of the long weekend. As dusk fell upon the dusty town of Immokalee, participants introduced themselves by sharing stories of courage, love and resistance, while assembling a community altar made up of items representing the people and movements that had ultimately helped to carry them to the Encuentro.
Day Two: Friday, Sept. 21
Participants rose bright and early for a day filled with clever and often hilarious popular theater skits by members of the CIW, presentations around the inner workings of the Fair Food Program and Worker-driven Social Responsibility Network, and skill-building workshops to prepare for another busy season in the national Wendy's Boycott. The CIW's newest teatro sheds light on the exploitation faced by farmworkers in greenhouse operations and Wendy's shady auditing practices that fail to deliver real protections against abuses without enforcement and monitoring. To cap off an exciting Day 2, we learned from SFA veterans about their organizing experiences and strategies deployed during earlier SFA campaigns, including Boot the Bell and Dine with Dignity, and prepared to use their recipes to help craft the next steps in the Campaign.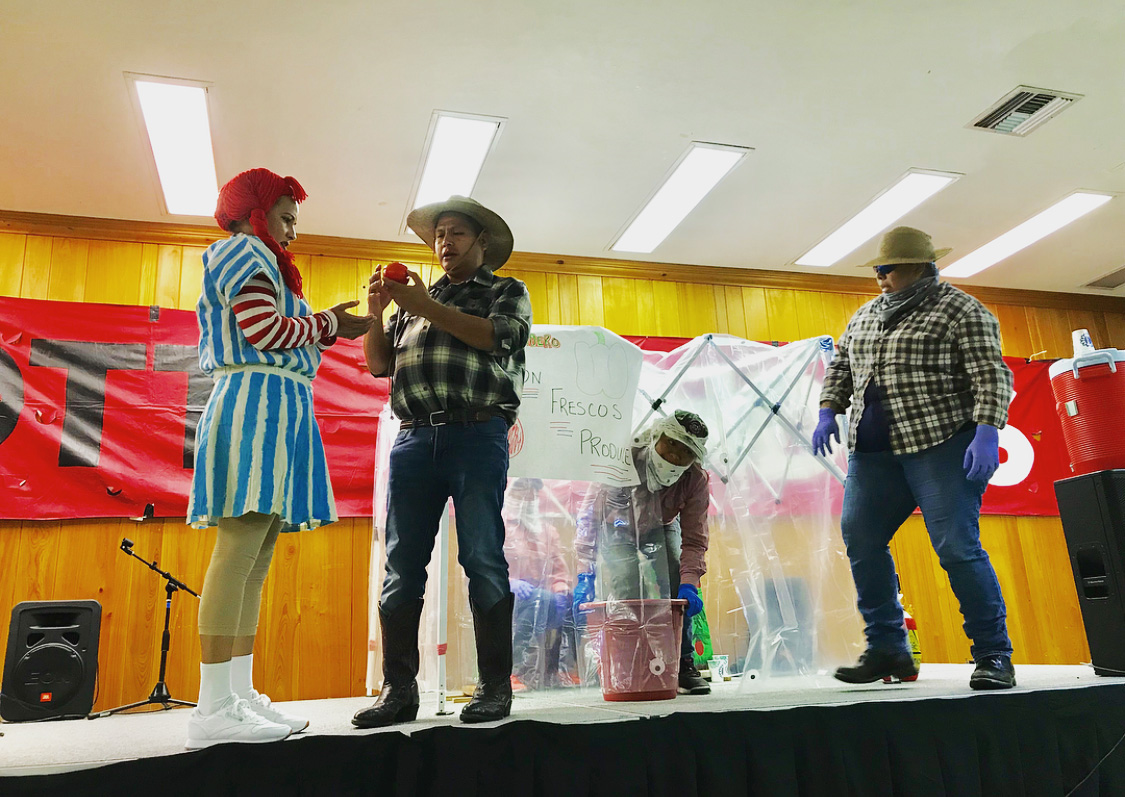 Day Three: Saturday, Sept. 22
On Day 3, participants took a deep dive into campaign strategy sessions: crafting creative actions for "Pulling Back the Curtain on Wendy's" National Week of Action, and planning to ramp up efforts to "Boot the Braids" this semester across eight campuses — Florida Atlantic University, University of North Carolina Chapel Hill, University of Florida, Ohio State University, University of Michigan, and Temple University.
By midday on Saturday, Round Two of skill-building workshops set to help participants put into practice community organizing skills to bring Wendy's into the Fair Food Program once and for all… and then, it was time for action!
The crowd swelled to over 150 people as members of Call to Action Southwest Florida and Florida Gulf Coast University SFA joined Encuentro participants for a lively Wendy's Boycott picket in Estero. Presente in the mix were over a dozen women leaders from countries around the world on an international delegation with Vital Voices Anti-trafficking Fellows. As the rousing protest grew in size and volume over the hour, a Fair Food delegation — made up of Luz Juan from San Francisco State University, Nova Friedman from Temple University in Philadelphia, PA, Maria Munguia Cortes from Wartburg College and CIW's own Julia de la Cruz — attempted to deliver a letter to the local manager in hopes that word of the resonating calls for justice from the gathered students and young people would reach higher ups in the company.
Minutes before closing out the rally, a light drizzle began to fall on the protesters gathered outside of Wendy's. Despite the rain, spirits remained high as ever, and Maria closed it out with inspiring words affirming the SFA network's commitment to boycott Wendy's until a Fair Food Agreement is signed: "I was born in Mexico, raised in Immokalee and now I go to school in Iowa… we're here and that's what matters. And even though this fight continues every day we're still showing up, we're still standing..."
Once back in Immokalee members of the CIW, their families, and participants shared poetry and art, music and folkloric dance during the longstanding SFA tradition at the Encuentro, Café Cultura. Participants tailored their performances to fit this year's "Hasta La Raíz" theme — and there was no better way to open the space than with Immokalee's very own Pedrito Fernandez aka Raymond Tepochtli Mejía Perkins who, in full charro suit, made the crowd swoon with back-to-back romantic corridos!
For the remainder of the night, colorful skirts, guitars and traditional marimba music from Guatemala grazed the stage of Cafe Cultura, bringing allies and farmworkers together for an unforgettable night!
Day Four: Sunday, Sept. 23
After three eventful days of strategizing and planning, SFAers made their commitments to the Fair Food movement by constructing a larger-than-life "tomato timevine." We wrapped up the weekend with a powerful presentation by union organizers Verónica Laguna and Yamilex Rustrian from SEIU United Service Workers West who shared details about the incredible "Ya Basta!" campaign to end assault and rape on the night shift for janitorial workers. Nely Rodriguez from the CIW followed by speaking to the tireless organizing to eradicate and prevent sexual harassment in the fields for decades. In the era of #MeToo, we must uplift the voices of hardworking women on the frontlines of the national – and international – struggle against sexual violence in the workplace.
This year, SFAers will be bringing the fight — and all of their newly-gained skills — from the #2018Encuentro to their campuses and communities, ready to pull back the veil on Wendy's and their theatrical schemes to manipulate consumers. This weekend served as a critical opportunity to strategize together, strengthen our bonds, and get energized for the year ahead. Wendy's might be a multi-billion dollar corporation, but our movement is equipped with a powerful tool: commitment to expand human rights for farmworkers in its supply chain.
Stay tuned as we send out more resources and updates on the "Pulling Back the Curtain on Wendy's" National Week of Action, and be sure to contact us at organize@sfalliance.org if you'd like to add your action to the mix.
We're fired up! Are you?